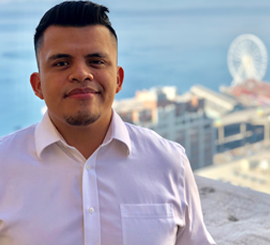 Ruddy Salas
Legal Assistant
[email protected]
Ruddy joined Ressler & Tesh in 2017 during his senior year at the University of Washington. Currently, Ruddy is one of our legal assistants and is transitioning to becoming a legal intern. He is now attending Seattle University's School of Law. Ruddy is expected to graduate from law school in 2024 and hopes to become an attorney at Ressler & Tesh.
During his time at Ressler & Tesh he has progressively gained more experience and responsibilities. He works closely with the firm's attorneys and paralegals to provide superior service to our clients. Ruddy finds that Ressler & Tesh provides him an excellent learning experience, as he developed a vast understanding in the area of personal injury.
Outside of work, he enjoys spending time with his loved ones, going to concerts, playing soccer, and cooking.